Events
REAL SHINTAIDO AT LAST – DAIENSHU AT EMERSON COLLEGE, FOREST ROW
June 25-27th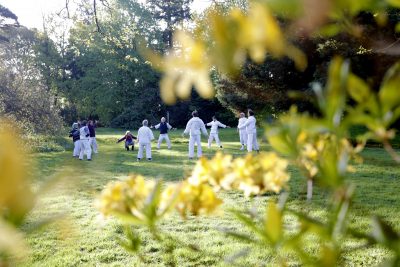 Yes! Assuming nothing changes for the worse, we will get together for our Daienshu on the weekend of June 25-27th, just a few days after all legal restrictions are lifted. We ran a poll of BS members, and most of you were eager to get back to the dojo, so we're going ahead! We will, though limit numbers to 15 people (all in single rooms) and ensure appropriate social distancing and other precautions both in the dojo and while socialising.
Can't wait to see you there! Emerson College is a beautiful site not far from Gatwick. Associated by the Anthroposophy movement, all food is biodynamically grown on site. We plan to stay onsite through the weekend.
Registration is now open. The full fee is £330, but BS members receive a £30 discount, and early bird booking, between now and April 25th, ensures another £40 discount – so a £60 deposit paid before April 25th secures your place for just £260.
The deposit is normally non-returnable, but if government restrictions change, or if Emerson change their requirements significantly, then the deposit will of course be returned.
SIGN UP HERE – places are going fast!
ONLINE DAIENSHU
We have learned so much from doing Shintaido via Zoom – and made so many new keiko friends from across the globe – that we've decided to run an Online Daienshu as well!
This will start on June 21st and include activities through the following week, then participants will be able to join in elements of the Emerson Daienshu. Thus bringing together all the threads of our practice – just one expression of Kizuna ("threads") our overall theme for 2021…
Fee to attend the online portion of the event only: £60
Note – anyone who signs up for the Emerson Daienshu will be able to join the Online Daienshu completely for free!
Notes
BS events are open to all. College events (BSC or ESC) are usually open to those at Assistant or 1-kyu level and above. Technical Committee meetings (ETC or ITC) are for Senior Instructors, or sandan, and above only.
British Shintaido aims to organise a varied selection of events each year, from fairly modest and affordable local events to the more expensive residential events which enable us to go deeper into our practice. The schedule is apt to change sometimes at short notice so it's worth revisiting this page to check for updates. Or you can sign up to our e-mail mailing list using the form in the footer section of this page.
Abbreviations
BS = British Shintaido
BSC = British Shintaido College
ESC = European Shintaido College
ETC = European Technical Committee
ITC = International Technical Committee