Events
British Shintaido (BS) holds at least two residential events (gasskuku) and workshops per year. Other events may be organised by local groups, or by the BS College (BSC). We aim to add an events calendar on this page in the near future.
In 2020 the Shintaido events programme is inevitably affected by the Covind-19 crisis, and the programme is under constant review.
7th-21st June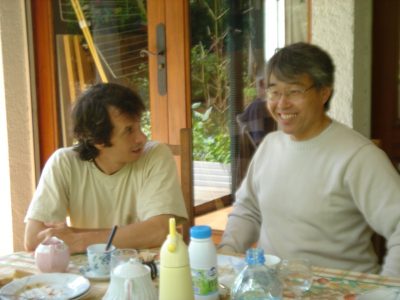 Our online version of the traditional daienshu or summer gathering. Led by Masashi Minagawa Sensei and Gianni Rossi, and using the Zoom platform. Open to all, including beginners. Fee: £60. Collective practice and discussions 2-3 pm, 4-5pm, on Sunday 7th, 14th, 21st June. Small group and individual practices during the intervening weeks, following a programme set by the course leaders.  Organiser Peter Furtado. Email peter [at] shintaido.co.uk
Register by June 1st. Visit the Registration page to register for this unique event.
October 4th
British Shintaido exam workshop. Details to be considered.
Notes
BS events are open to all. College events (BSC or ESC) are usually open to those at Assistant or 1-kyu level and above. Technical Committee meetings (ETC or ITC) are for Senior Instructors, or sandan, and above only.
British Shintaido aims to organise a varied selection of events each year, from fairly modest and affordable local events to the more expensive residential events which enable us to go deeper into our practice. The schedule is apt to change sometimes at short notice so it's worth revisiting this page to check for updates. Or you can sign up to our e-mail mailing list using the form in the footer section of this page.
Abbreviations
BS = British Shintaido
BSC = British Shintaido College
ESC = European Shintaido College
ETC = European Technical Committee
ISC = International Shintaido College
ITC = International Technical Committee