Bojustu One Day Workshop
24th September 2023
10am – 3pm (two keiko, morning and early afternoon)
Elstree School, Woolhampton, near Reading
Beginners welcome.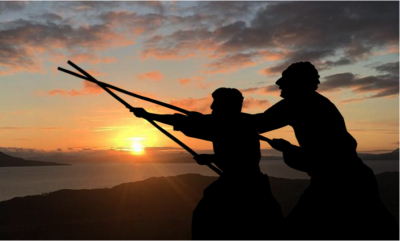 Workshop Details
Join Charles Burns for an exploration of movement using the Shintaido long staff (quarterstaff).
We will focus on learning to move with your staff using simple sequences, partner work and soft movement. The aim is to make the staff feel like a natural extension of our bodies.
Participants will leave with a coherent program for further self study and an insight into the wonderful world of Shintaido Bo movement.
Instruction: Charles Burns
Event Manager: Kim Chan
To register for the event please fill in the form below.
Fees
Workshop fee: £70
BS members' discount: -£10
BS members pay: £60
Registration closes 23rd September 2023 (the day before the event).
Concessions available – please ask.
Workshop Registration Form
How to Pay
Please send your fee to British Shintaido by BACS to:
Sort code: 30-96-96
Account no: 04577865
Reference: BS Workshop
Or via Paypal to events@shintaido.co.uk (for overseas visitors).
Any questions? Contact Charles Burns at charles@shintaido.co.uk